New Zealand 90 (Raval 31, Williamson 28, Yasir 8-41) and (f/o) 131 for 2 (Taylor 49*, Latham 44*, Yasir 2-65) trail Pakistan 418 for 5 dec (Sohail 147, Babar 127*, Azhar 81, de Grandhomme 2-41) by 197 runs
Yasir Shah's legspin characterized the third day of the Dubai Test against New Zealand in a way that would have made his youth saint Shane Warne bar with satisfaction. The Pakistan spinner turned into the principal bowler since Anil Kumble, in 1999, to take ten wickets in multi day, eight of them arriving in a momentous section of play that sent New Zealand spiraling from 50 for no misfortune to 90 full scale. New Zealand discovered break in the finish on a solid 65-run third-wicket association between Ross Taylor and Tom Latham. However, all that did was ensure they could go into the fourth day without the match as of now being an acts of futility.
The harbinger of the astounding day would be an over of unadulterated divination from Yasir, which totally changed the tide of the match from a lumpy, even challenge to one that New Zealand are currently surrendered to fight for their lives in. He devastate to a hounded opening association with a whirlwind of wickets that tore through New Zealand's center request. The 50-run association among Raval and Latham had finished after Raval awkwardly hauled the ball back onto the stumps off Yasir, yet the genuine enchantment was yet to occur. In the penultimate over before lunch, the legspinner tore through Latham, Ross Taylor and Henry Nicholls to leave New Zealand tottering at 63 for 4 at the break.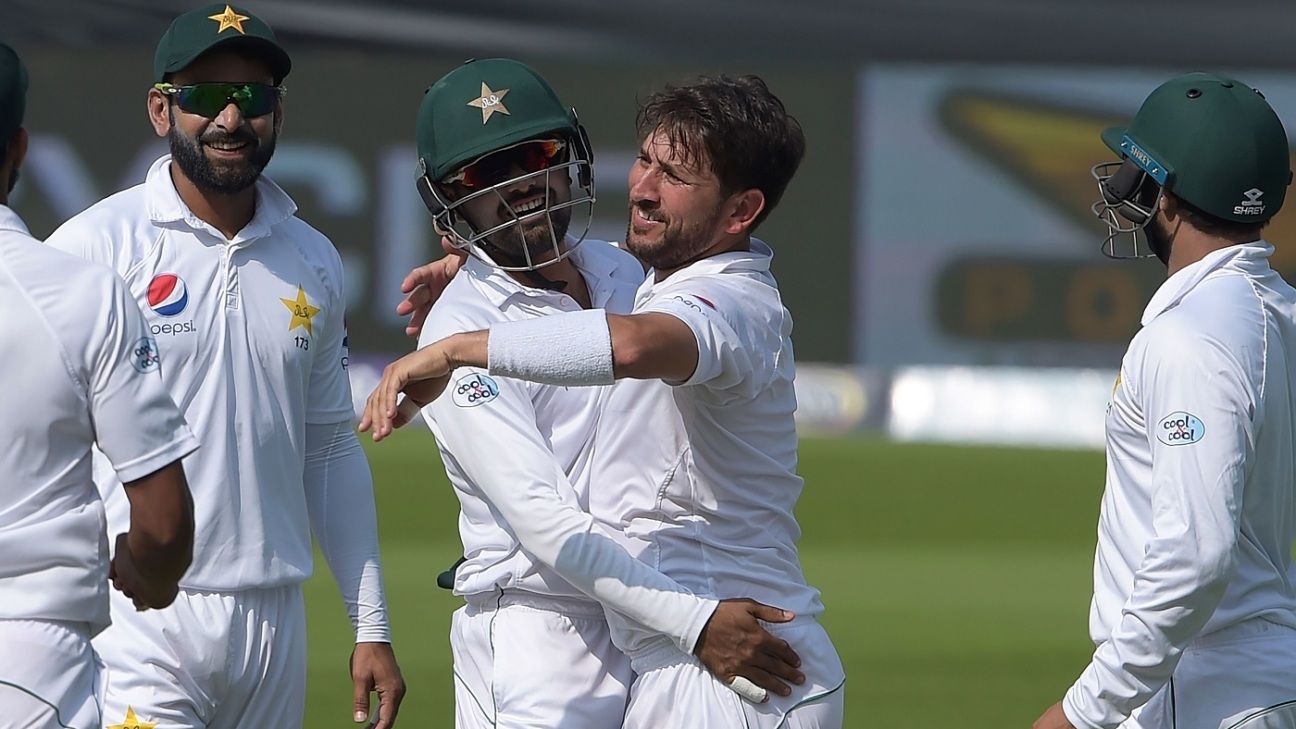 It started with the primary wad of the over, when he drew Latham into a push and Imam-ul-Haq gathered up a catch at short leg. That opened up the chance to toy with the new batsmen; Taylor's second conveyance was a ball that evoked recollections of Shane Warne to Mike Gatting. It pitched around center and leg before turning past the dead bat Taylor was putting forth to it to bang into off stump. Nicholls' second conveyance, as well, was the stuff of bad dreams, shouting through the hole among bat and cushion to crush into center stump.
After lunch, Yasir cut through the New Zealand innings like a hot blade through margarine, completing with the third-best figures in Pakistan's history. New Zealand could add only 27 races to their lunch count of 63 for 4, with Yasir in charge of four more wickets. He completed with 8 for 41, giving Pakistan a fantastic 328-run lead, and made Pakistan's first-innings announcement look interminably more insightful than it had yesterday.
Kane Williamson had played a solitary, forsaken hand at the opposite end, apparently batting on an alternate pitch, however could do minimal about the savagery unfurling around him as his side lost 10 wickets for 40 hurries to be rocked the bowling alley out for 90. With BJ Watling and the captain himself being the last pro batsmen at the wrinkle as the second session started, how that organization went was to be critical to New Zealand's expectations in the Test. Four balls after lunch, Watling was run out after an overwhelming mistake with his chief, and even fortunes went Yasir's way as the ball he bumbled with proceeded to hit the stumps at any rate.
After Hasan Ali dealt with Colin de Grandhomme in indistinguishable mold to his first-innings lbw in Abu Dhabi, Yasir was in total charge of the tail. Williamson attempted to get the score to three-figures at whatever point he had the strike, yet with no other player ready to adapt to Yasir's warmth, he was bound to remain a powerless passerby as Pakistan took a massive lead, and trained New Zealand to pursue on.
Their second endeavor up to this point has been a more good, less sensational undertaking, portrayed by the unfaltering steel with which Taylor and Latham saw during that time after two generally early wickets. Yasir stayed getting it done for a large portion of the session, yet when he followed off toward the end, Taylor was there to rebuff him, beyond any doubt to never release a short ball squander. Two successive conveyances in the day's last half hour went for four and six, and it was the main time throughout the day when Yasir looked marginally drained.
Prior in the innings, there were fears that New Zealand could be gone during a time, especially when Jeet Raval and Williamson turned into the ninth and tenth wickets for Yasir. The ball to at last evacuate the New Zealand commander, who, up to that point, had been an image of quiet crosswise over the two innings, was another feature on multi day, the stories of which Yasir is bound to entertain to his grandkids decades from now. He drew Williamson into a forward protective shot, yet even a batsman of his quality couldn't consider only the measure of turn Yasir had bestowed, and sent an outside edge to the attendant.
It was multi day that started with rain and finished with obscurity. That is fitting enough for New Zealand, who will recollect today by those desolate pictures at any rate. However, the men a couple of paces away in the other changing area would put a totally extraordinary turn on how occasions unfurled. It is, all things considered, the turn of one specifically that puts the hosts on the slope of a resonating, arrangement leveling triumph, and no foreboding shadows will deny them the delight.